Welcome to the "Snow Much Fun" Getting Cricky Blog Hop!!
We're so happy you could join us for this month's Getting Cricky Design Team Blog Hop!! In addition to Kristal and the Senior Design Team, we look forward to introducing you to the rest of our NEW Junior Design Team (be sure to visit Kristal's Blog to see ALL of our "new additions"!!)... Each of us, along with our
Special Guest - Patty from "Creative Diva"
, are so pleased to have you here with us!! Throughout the hop, you'll see NEW ideas for creating cards and projects with Kristal's stamps sets!!
If you've hopped along from Cheri then you are in the right place!! If you are just joining me from your dashboard, or reading this via email, please be sure to Debbie to start at the beginning with
Kristal's blog
(you'll want to catch up on all the FUN!!)...
Each of Kristal's stamp sets benefit charity. At least $1 per stamp set goes to benefit the charity noted on the stamp set package. Kristal is donating to the following charities: Cancer Angels, Storefront Shelter for Homeless Children, Intrepid & Fallen Heroes, E. Glaser Pediatric AIDS Foundation, Doorways Shelter for Women & Children (Domestic Violence), Wayside House for Women, Camp Good Days & Special Times, Adopt a Classroom, and Autism Research Institute. Kristal will donate $1 for every stamp set sold, retail or wholesale to the charity noted; and over time believes this will add up to some wonderful miracles for these special people. So you can feel good that each time you purchase a K Andrew Designs art stamp set, someone around the country is receiving some good help!
K Andrew's stamps are all made and assembled here in the USA, which is very important to Kristal. This ensures all product materials are safe and that jobs are being provided and maintained here in America. You can learn even more about Kristal's stamps (and pick some up for yourself) by visiting her online store:
K Andrew Designs
:
Kristal's stamp sets are perfect for cards, layouts, and so much more...
For my project, I'm featuring the (Winter Wishes)
Winter Wishes
Welcome
For My Project I have made a Christmas Ornament Tag to Celebrate " Snow".
This will be my first Blog Hop hope everyone will love it.
For my Base of the Ornament I have used two differant Size spellbinder Dies to
give Demention. I Embossed the top layer. I layered with two colors for Contrast..
For my Snowflake I added Glitter to give them a glisten like Snow, then I layered with three spellbinders dies, I arranged them to look like snowflakes. I used 3D dots to add the Demention
to the snowflakes. On the four corner I add Glittered Snowflakes. My Tag on the side is a spellbinders die then added my Sentament from KAndrews.
Thanks for stopping by my Blog H
Grand Lables Twenty Three, Fleur De Lis Square, Lace Doily Motifs, Doily Accents.
Sizzix Snowflake Embossing Folder, Sprinkle & Sparkel Starfire Glitter.
DCWV Papers Blue's, Martha Stewart Sm. Snowflake Punch.
Big Hugs
Anita Jr.Dt. Member
Now you can hop on over to your next stop: Debbie ......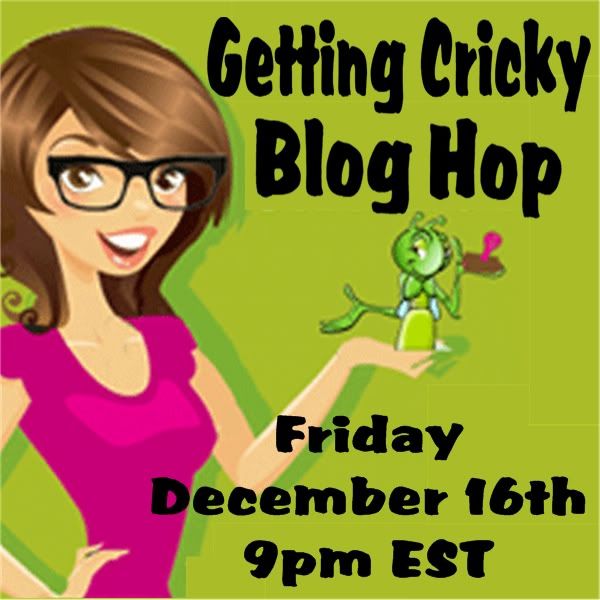 ........................................